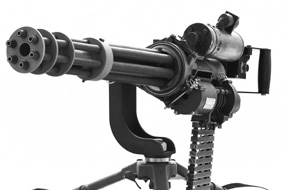 M134 Minigun
Today someone emailed me a video so awesome, that after watching it, I had to troll the internet all day about its subject– the Minigun. Truth be told, I actually troll the internet for information on Miniguns several times a year. :)
Like all good video footage of machine guns, it is of course put to the music of Carl Orff and Metallica: video (5.9 MB)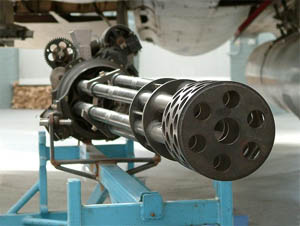 M61 Vulcan
The Minigun (7.62mm) is a frightening weapon. And its higher-caliber older sibling, the Vulcan (20mm), even more so. It is always the sound of it firing that I find so arousing. The weapon roars–the rate of fire being so great that the report of an individual round firing becomes indistiguishable from the one before and after. In some configurations the rate of fire is as high as 100 rounds per second.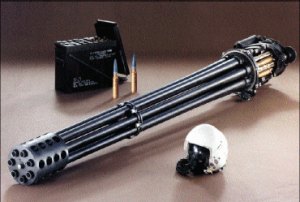 GAU-8 Avenger
The following paragraph (edited from the Nazarian's Guns Recognition Guide) about the bizarrely powerful behemoth Avenger (30mm)–the weapon the A-10 Warthog was designed around– furthered my arousal:
A typical combat load would include 30mm Armor Piercing Incendiary (API) mixed with 30mm High Explosive Incendiary (HEI) called Combat Mix Ammunition. The ratio of API to HEI rounds in the Combat Mix is 4:1. Combat mix is a sequential mixture of Depleted Uranium (DU) and HEI rounds in which 1 HEI round is followed by 4 DU rounds when fired.

5.56mm handheld Minigun, or "Microgun"
The 5.56mm man-carried version of the Minigun never made it out of the research and development phase, despite it's pop-culture appeal. The above photo is actually a 6mm BB-firing replica made by Airsoft. (It's hard to find good photographs of Miniguns on the internet.)
The roar of the Minigun can be heard in this footage of the Avenger being fired in a test environment: video (4.6 MB)
For tons of more info, photographs, and videos, go to the Wikipedia entry for the Minigun.
It should be noted that although the 7.62mm version is the only one called the Minigun, all of these weapons systems are commonly referred to as Miniguns.
Oh, and one final thing. All these weapons were designed by General Electric.